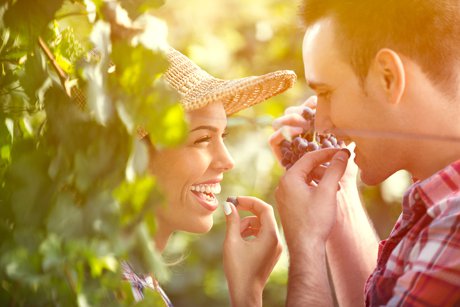 Rosedale Farms & Vineyards have been welcoming neighbors and friends to their Hartford County property since 1920. Family owned and operated for five generations this quality farm provides local produce to the area and high class, great tasting wines.
Weekends are for wine tasting. From 12 to 5 p.m. guests can sample sips on the patio. Favored Rosedale wines include Three Sisters, Winter Red, Serendipity and Sundance. Blends of classic reds and whites as well as boutique, blush and dessert wines are full of flavor.
Hartford County Living… Fresh Flowers To Fruit
The fruits of labor are plentiful on this piece of Hartford County property. Stop into the market and browse through an almost endless supply of fruits and veggies. Rosedale Farms key produce includes crisp corn, luscious tomatoes and of course plump and juicy grapes. Peppers, potatoes, parsnips and peas are stacked inside next to melons and squash. Berries are bountiful especially red raspberries and strawberries. Indulge in picture perfect Hartford County living by bringing fresh cut flowers back home. Arrangements are enchanting with mixes of Shasta daisies, asters, sunflowers and more.
Seasonal events mix things up at Rosedale Farms and Vineyards. A corn maze is now open for Fall. Happily scurry through the corn searching for the way out. Farm Fests bring out the best in family fun with hayrides, farm tours and wine sampling for mom and dad. Chef to Farm dinners are often scheduled. Participants take a trip to the fields to harvest the evening's ingredients and then enjoy a multi-course culinary delight. Take a trip out to the farm today.